Worlds Only
DreamMaker Spas
Syncrylic™
The Look of Acrylic. The Durability of Polyethylene
Optional
Ozone System and Audio
The Crossover Collection
Crossover 730S

The Crossover 730S is a 6-7 person all-seat hot tub with 30 stainless steel jets.
The Contour Collection
Contour 830L

The Contour 830L with Lounge Suite is a 5 person hot tub with a full-body lounge.

Contour 830S

The Contour 830S Suite is a 6 person hot tub with deep water stream back channels.

Contour 850L

The Contour 850L with Lounge Suite is a 5 person hot tub with 50 adjustable jets built for family-style comfort.
DreamMaker Spas Collection
DreamMaker hot tubs were created to provide an easy to use, durable and affordable hot tub option that's suitable for every family. Composed of the patented formula Syncrylic material, these unibody molded spas have the look of acrylic, but the durability of polyethylene. Mix and match a wide range of colors and textures of the various components to create a customized look that goes with the rest of your home decor. Choose between 120 Volt plug-and-play models for ease of installation or hardwired 240 Volt models for extra pumping power. All DreamMaker hot tubs come with digital controls, water features, Weather Shield Super Seal spa covers, and foam barrier insulation. The patented EZ Kleen Convex 2 filtrations system provides 100% water filtration to keep the spa fresh and clean while reducing maintenance duties. Choose from models that can seat up to seven or as few as two. All DreamMaker hot tubs come with a one-year warranty on parts and a five-year warranty on the spa shell and structure. For an exceptional home spa experience at an affordable price, DreamMaker hot tubs are number one in value.
We Have Stock Available!
Relax in comfort with Hydropool Hot Tub or Swim Spa! Save up to $6,500 on select pre-ordered models available for immediate Delivery! Selection is limited so act now!.
Offer ends Dec 10th
See What Our Customers Have To Say
Why Buy A DreamMaker Spa Model
Energy Saving Spa Pack
DreamMaker Spas use a high-performance, energy-efficient system to provide affordable spa enjoyment that will last years to come.The 2-speed therapy pump is designed to provide low-speed operation for both filtration and heating. Two identical smart sensors accurately and reliably monitor spa water and heater core temperature, also eliminating frequent cycling of the pump motor which lowers operating cost and preserves the pump life. A titanium high-flow heater uses a simple flow-through design that minimizes water flow restrictions to maximize pump efficiency and jet performance. Titanium also provides superior corrosion protection. Finally, friction pre-heat technology harnesses the energy used by the water to re-use for ultimate energy efficiency.
DreamMassage Jets
DreamMassage jets were designed to deliver the most enjoyable spa massage possible, delivering a vigorous yet gentle tissue massage that will release stress and tension. The high-flow, medium comfort design eliminates the hard pressure often experienced with jets found in other spas. Jets can be adjusted to create a truly targeted massage by selecting spinning, twirling, or pulsating water flow. Air mixture control also allows users to adjust the intensity of the water jets, ensuring the most personalized, comfortable soak.
Unibody Construction
DreamMaker Spas are manufactured as one solid unit with the shell, cabinet, and foundation all as one piece. This process eliminated weak attachment points, making it virtually indestructible. Many other spas use wooden frames which can rot, steel frames that can rust, or expensive plastic frames. The unibody construction eliminates the need for a frame entirely and makes the spa lighter and easier to handle.
No-leak Plumbing
DreamMaker's patented jet sleeve and double o-ring design virtually eliminates the risk of common plumbing leaks. Many traditional acrylic spa designs require manual grinding around each of the jets to seal the surface which is difficult to make water tight, even with adding silicone caulking. DreamMaker's advanced molding capabilities form a completely water tight seal and eliminate the need for caulking.
Lightweight and Portable
DreamMaker Spas are strong and durable yet weigh almost half of a traditional spa. Many traditional 'portable' spas need special equipment like cranes to be delivered or moved, whereas DreamMaker's lightweight models can easily be moved with a dolly and a few adults, making them truly portable, keeps shipping costs lower, and allows them to be placed in almost any location you wish.
DreamMaker Brochure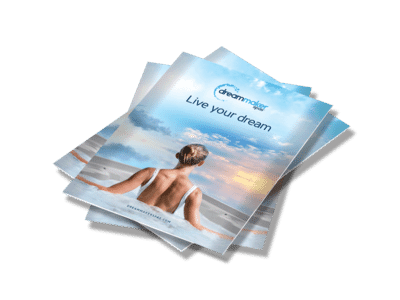 Every Hydropol Hot Tub and Swim Spa is designed to exceed your expectations with superior ergonomic design, and 10-year structural guarantee. Wet your appetite for supreme luxury with a little light reading. Download the latest Brochure here to help choose the model which is right for you.
Sell Sheets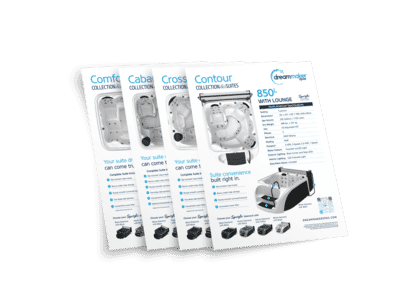 Whether it's staying active, defying stress, or combating pain, your Hydropool can and will help you be your best self. Go a little deeper into the specs, and explore all the features and conditioning benefits of our World's Only Self-Cleaning Hot Tubs. Jump in with Hydropool The Water is Calling.
Owners Manuals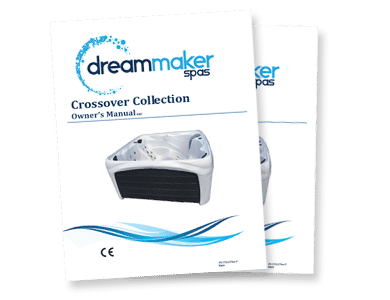 Whether you looking at purchasing or you are an existng owner, This manual will provide you a better understanding of the product. Download the Owners manual for more detailed specifications, installation instructions, and electrical specifications and connection requirements